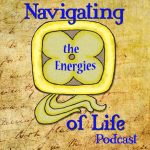 A podcast to accompany the B'en trecena in the Horoscope blog which is associated with self determination and strong personal authority. This podcast touches on many of the topics included in the Maya Count-of-Days Horoscope blog for July 5-17th, 2020 but includes additional material as well. This 8th podcast was published shortly after the trecena (13-day period) began and contains comments related to some important events that have happened in the past during this energy sequence. Since filmmaker George Lucas was born under the influence of this trecena, reference is made to key energy influences that are reflected in the creation of his enduring Star Wars films.
The reference to sky-typing in the podcast relates to this CNN article titled 80 artists wrote messages in the skies above ICE detention centers
An introduction to the workings of the Maya Calendar can be found in Episode One of this podcast series and in the MCA blog section of my mayacalendararts.com site on the Maya Calendrics page.
Music excerpt: "Adding the Sun"
Kevin MacLeod (incompetech.com)
Licensed under Creative Commons: By Attribution 3.0
http://creativecommons.org/licenses/by/3.0/